Chandigarh to Manali Taxi
Chandigarh to Manali Taxi providing Tempo Traveller, Innova, Etios, Dzire from Chandigarh to Manali at low cost in addition experienced drivers. Sharma Travels are doing Taxi Service business to begin with 2012. In the same way, we are aimed to provide new and clean cabs. Generally speaking, we have setup rate for Chandigarh to Manali tours. As was previously stated, we offer all included rates for Chandigarh to Manali taxi. We also provide Taxi Chandigarh to Leh.
We are leading Taxi Company who provide best Taxi Service in Chandigarh to Manali tours. Chandigarh to Manali is a most famous route in north India. If you planing for Manali tour then Chandigarh is a best place to start tour.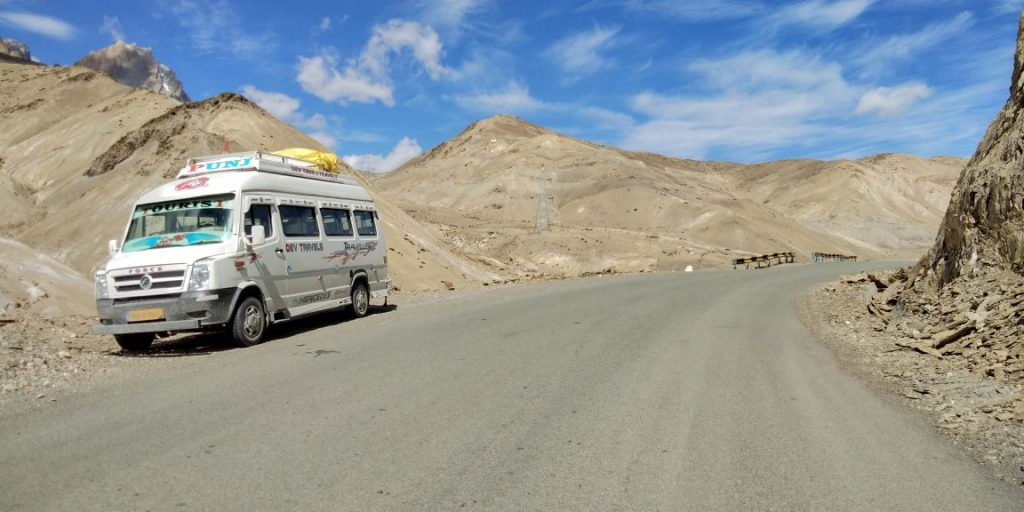 Fill Form and get Quotation in Email
Manali Sightseeing: 


Solang valley, 
Naggar Castle, 
Tibetan Monasteries, 
Club House, 
Manu Temple, 
Pandoh Dam, 
Jogini waterfall, 
Manikaran Gurudwara, 
Jana Falls, 
Gulaba, 
Beas Kund, 
Gauri Shankar Temple,
Rohtang Pass, 
Vashist Temple & Water Springs, 
Hadimba Temple.
Our Services
Chandigarh to Manali Tour Packages
Taxi from chandigarh to manali
Chandigarh to manali taxi service
Cab from chandigarh to manali
Tempo traveller chandigarh to manali
Chandigarh to shimla to manali taxi service
Manali to chandigarh taxi
Chandigarh to manali tempo traveller
Chandigarh to manali car rental
Taxi service from chandigarh to manali
Taxi service chandigarh to manali
Taxi from manali to chandigarh
Chandigarh to manali innova fare
Chandigarh to Manali Taxi Fares
Chandigarh to Manali Drop Taxi Fare:
Toyota Etios/Swift Dzire     : 5 to 9K
Toyota Innova 6 seater       : 7 to 10K
Toyota Innova 7 seater       : 7 to 10K
Tempo Traveller 10 Seater : 11 to 14K
Tempo Traveller 14 Seater : 12 to 15K
Tempo Traveller 17 Seater : 13 to 18K


Chandigarh to Manali Car Rental Fleets for 2Days/1Night :
Toyota Etios/Swift Dzire     : 6 to 10K
Toyota Innova 6 seater       : 8 to 10K
Toyota Innova 7 seater       : 8 to 11K
Tempo Traveller 10 Seater : 12 to 15K
Tempo Traveller 14 Seater : 13 to 16K
Tempo Traveller 17 Seater : 14 to 17K
Chandigarh to Manali Car Fare for 3Days/2Nights:

Toyota Etios/Swift Dzire     : 8 to 12K
Toyota Innova 6 seater       : 10 to 14K
Toyota Innova 7 seater       : 11 to 15K
Tempo Traveller 10 Seater : 15 to 19K
Tempo Traveller 14 Seater : 17 to 21K
Tempo Traveller 17 Seater : 20 to 25K
Chandigarh to Manali Car Rental Fleets for 4Days/3Night :
Toyota Etios/Swift Dzire     : 9 to 13K
Toyota Innova 6 seater       : 12 to 16K
Toyota Innova 7 seater       : 13 to 17K
Tempo Traveller 10 Seater : 17 to 21K
Tempo Traveller 14 Seater : 18 to 22K
Tempo Traveller 17 Seater : 24 to 29K
Car hire Fare for Chandigarh to Manali
Taxi Fare from Chandigarh to Manali for 5Days/4Nights:
Toyota Etios/Swift Dzire     : 12 to 15K
Toyota Innova 6 seater       : 16 to 18K
Toyota Innova 7 seater       : 17 to 19K
Tempo Traveller 10 Seater : 19 to 23K
Tempo Traveller 14 Seater : 20to 24K
Tempo Traveller 17 Seater : 26 to 30K
Chandigarh to Manali Cab Fare for 6Days/5Night :


Toyota Etios/Swift Dzire     : 9 to 13K
Toyota Innova 6 seater       : 12 to 16K
Toyota Innova 7 seater       : 13 to 17K
Tempo Traveller 10 Seater : 17 to 21K
Tempo Traveller 14 Seater : 18 to 22K
Tempo Traveller 17 Seater : 24 to 29K
Cab Rate from Chandigarh to Manali for 7Days/6 Nights:
Toyota Etios/Swift Dzire     : 16 to 18K
Toyota Innova 6 seater       :  21 to 25K
Toyota Innova 7 seater       : 22 to 26K
Tempo Traveller 10 Seater : 27 to 30K
Tempo Traveller 14 Seater : 27 to 31K
Tempo Traveller 17 Seater : 38 to 45K
Chandigarh to Manali Taxi Fleets for 8Days/7Night :
Toyota Etios/Swift Dzire     : 18 to 21K
Toyota Innova 6 seater       : 25 to 29K
Toyota Innova 7 seater       : 25 to 30K
Tempo Traveller 10 Seater : 29 to 32K
Tempo Traveller 14 Seater : 29 to 34K
Tempo Traveller 17 Seater : 42 to 48K